Hours
9:00 am – 5:00 pm
After hours availability
for additional fee
AWS Certified
Licensed & Insured
20+ Years Experience
- Free Estimates
- Mobile Welding & Onsite Repair
- Steel & Aluminum
- Residential & Commercial
- Consulting, Design, and Fabrication
- Pick Up & Delivery Available (additional fee)
- After Hours Availability (additional fee)
I provide FREE estimates
Estimates will include an hourly rate plus material cost
Please note - Material cost can fluctuate
John Dale, Owner
770-231-3260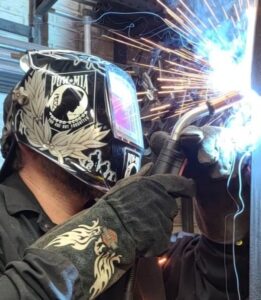 John Dale has been in the welding industry for over 20 years. His passion for creating custom designs using metal has influenced his decision to expand his portfolio beyond mobile welding and repair to include furniture pieces and art deco. His mission is to provide reliable convenient options at an affordable rate, and assist you in the creation of your custom designs, and one of a kind pieces. Whether it's a frame repair on a golf cart or trailer, a hand rail on your backyard steps, or anything in between, The Fab Shop can meet your needs.
"Here at Peachtree City BMX in Peachtree City, Georgia, we have been very fortunate to have John come out in emergencies to weld our gate. This is a very expensive aluminum gate that requires special welding. John has been our "go to" guy since 2019 when the gate was installed. Each time he has come out quickly, quoted, and welded - often on the same day. Excellent quality welding each and every time. I highly recommend his services."
~ Peachtree City BMX
Custom Work

















"John created many pieces for our salon - the reception desk, shelves for our retail products, a sliding barn door, and our coffee bar. Everything turned out just the way we wanted!"
~ Amber, Owner, Salon 54
THE FAB SHOP
Your metal fabricating

and welding specialist
Hours
9:00 am – 5:00 pm
After hours availability
for additional fee